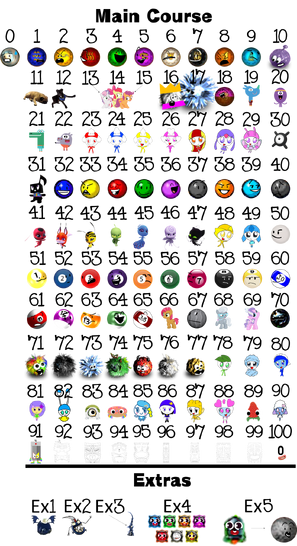 Luxor Svetlograd Complete Mix-Up is a fangame but it's not in the Luxor franchise. It consists of about lots of levels in lots of stages. The antagonists of the game are the pyramids and the aim of the game is to defeat them.
Colors
Main Course
There are 100 main colors in the main course and that includes The Rewinder. Shoot them to rescue them.
0 -

The Rewinder

1 -

Blue

2 -

Yellow

3 - Red
4 -

Green

5 - Purple
6 -

White

7 -

Black

8 -

Orange

9 -

Turquoise

10 -

Purple Blob

11 -

Wilson

12 -

Loki

13 -

Sweetie Belle

14 -

Apple Bloom

15 -

Scootaloo

16 -

Whitette

17 -

Mr. Big Blue

18 -

Norrie

19 -

Tag

20 -

Betty

21 -

Happy

22 -

Roly

23 -

Solit-Spade

24 -

Solit-Clover

25 -

Solit-Diamond

26 -

Solit-Heart

27 -

Pyratina

28 -

Majesia

29 -

Mystelia

30 - Unown
31 -

Onpoo

32 -

Sapphire

33 -

Citrine

34 -

Ruby

35 -

Emerald

36 -

Amethyst

37 -

Obsidian

38 -

Amber

39 -

Aquamarine

40 -

Cranky Cracked-Up

41 -

Tikki

42 -

Trixx

43 -

Pollen

44 -

Wayzz

45 -

Duusu

46 -

Nooroo

47 -

Plagg

48 -

Joltree

49 -

Polatina

50 -

Cue Ball

51 -

1-Ball

52 -

2-Ball

53 -

3-Ball

54 -

4-Ball

55 -

5-Ball

56 -

6-Ball

57 -

7-Ball

58 -

8-Ball

59 -

9-Ball

60 -

10-Ball

61 -

11-Ball

62 -

12-Ball

63 -

13-Ball

64 -

14-Ball

65 -

15-Ball

66 -

Babs Seed

67 -

Grey

68 -

Silver Spoon

69 -

Diamond Tiara

70 -

Plasticky

71 -

Rainbowy

72 -

Black Furball

73 -

Blue Crystalball

74 -

Green Furball

75 -

Red Demonball

76 -

White Snowfurball

77 -

Yellow Doughball

78 -

Shaleaf

79 -

Yunitan

80 -

Oshietta

81 - Bloomarcy
82 -

Dinana

83 -

Minimaki

84 -

Sprinklepede

85 -

Ciaotchi

86 -

Shandaika

87 -

Honya

88 -

Adite

89 -

Strabby

90 -

Cottette

91 -

Ninety-One

92 -

Boss Graphic #1

93 -

Boss Graphic #2

94 -

Boss Graphic #3

95 -

Boss Graphic #4

96 -

Boss Graphic #5

97 -

Boss Graphic #6

98 -

Boss Graphic #7

99 -

Boss Graphic #8

100 -

Zero
Extras
There are 5 extras in the game on the path.
Mechanics
The colorful spheres forcefully move forward by a pusher called Scarab to the pyramid. Always rescue the spheres from entering the pyramid's jail cell by shooting the sphere to his/her correct color. Match three or more to gain points. Matching three chains can earn you one out of nine power-ups. Finishing a whole line of spheres can earn you a gem worth of points after the scarab has been eliminated. Fill the meter to finish the level.
If you failed to eliminate all in the line of spheres and it entered pyramid, you will lose one life and forced to try the level again. After you failed the level, the message will read "FOUL!". To earn an extra life, collect 30 golden ankh coins. If you lose all the lives you have, the game is over.
You can simply shoot the sphere by left-clicking the mouse. If the current sphere is no help, you can always change by right-clicking. But remember, always match the sphere to his/her correct color.
Power-ups
Luxor 1/AR Power-ups
Lightning Ball - A sphere that shoots a vertical lightning, rescuing the spheres in his path.
Fireball - A sphere that shoots fire, rescuing many non-matching spheres.
Wild Ball - A colourful sphere that can be shot around his friendly spheres anywhere on the path, including non-matching ones.
Speed Shot - Shoots the sphere twice as fast with a beam being visible while it is active.
Slow - Slows the movement of the spheres for a short period of time.
Stop - Stops the spheres for a short time.
Reverse - Causes the spheres to move away from the

pyramid

in the opposite direction.
Color Bomb - Eliminates all of the sphere of a specific color. There are one hundred colors for one to be all eliminated.
Scorpion - Spawns a scorpion from the

pyramid

and rescues at least 15 spheres. He only spawns in 1 path for two or more pathed levels.
Luxor 2 Power-ups
Color Cloud - A sphere that shoots a cloud of color, replacing many non-matching spheres with the ones that match her color in 0 seconds.
Lighting Storm - Causes a series of ten lighting blasts to strike and randomly eliminate spheres for better combos.
Net - Spawns a field that collects everything for a short time.
Pharaoh's Daggers - Replaces the two or more slots for the shooter with 10 daggers. Also present during bonus stages.
Luxor 3/QFTA Power-ups
Color Replacer: Replaces all spheres of that color on the board to a new color. It shows you what color she will replace the trapped spheres she affects.
Match Highlighter: Gives a hint on which specified color the player can shoot at for a couple of seconds.
Pyramid Blocker: Summons a spiked ball that rescues the other spheres from going into the

pyramid

. If the level is complete, he will explode.
Sorter: Organizes the spheres into better groups.
Sandstorm: Causes a sandstorm that wipes out the lowest row of trapped spheres.
Luxor 5th Passage Power-ups
Spiker: Shoots a sphere comprised of 8 spike shards that can be detonated manually.
Double Shooter: For a short period of time, the shooter can grow bigger to fire 2 spheres at the same time. Also appears when the player had achieved an accuracy that's higher than 85% in regular levels, during bonus stages.
Tri-Shot: Launches 3 lead spheres that rescue the oncoming trapped spheres. 3 arrows are given for the player to hint where these guys are about to be fired.
Black Hole: Plants a black hole at the closest point to the nasty

pyramid

that rescues spheres that pass through and then disappears.
Luxor Evolved Power-ups
Laser: Blasts a lasting laser through spheres. For those with a need to clear absolutely positively everything.
Rockets/Missiles: Replaces the two or more slots for the shooter with some warheads. These guys have an explosion hitbox, something that Bullets lack.
Poison Ball: Infects a number of spheres and automatically rescues them.
Meteor Storm: Rains destructive meteors that crash into random areas. These have an explosion hitbox than Lightning Storm, but their crash is slower and they come at a smaller pack.
Smart Bomb: An extremely rare power that rescues the spheres onscreen.
Freeze Ball: Freezes a number of spheres for manual destruction. Frozen spheres that are stuck in place can also be rescued by an oncoming group.
Chain Lightning: Arcs the spheres of the same color as the one struck and rescued.
Scoring
Spheres: 100 points each

Additional 100 points for every Combo you make (this bonus start when you matched 3 set of spheres in a row without missing)
Multiply by the numbers of Chain (reaction) it created

Ankh Coin: 250 points
Gems: 1,000~15,000 points depends on the type of gem
Story
You are the owner of the magnificent city of Sphereworld. Your rule is fair and your spheres are happy. Recently, however, terrible events have shattered the peace and quiet of Sphereworld. The spheres are trapped and are taken by the pyramid army! One blue sphere survived this attack. To make the nasty pyramids fail their plans, you set up a cannon outside the city, where the trapped spheres are assembling. You also make plans to collect the treasure they stole and hid amongst nearby maps.